What's Happening Now
March 2020
DLR responded to the city's initial round of permit comments during the last week of February. We are expecting to receive a 2nd round of city comments that will take our permit review and approval out into March.
Fortis is working directly with their modular trailer vendor to obtain a separate Modular Trailer move permit. We will move in 4 double units during spring break (March 23-27).
Fortis is submitting an updated early work scope GMP amendment approval based on updated drawings.
Exploratory efforts are being made to remove underground fuel storage tank contents over spring break so the tank can immediately and efficiently be removed at the start of summer.
It is anticipated some boiler room abatement (pipe insulation) will happen during spring break so that the path is clear for immediate summer boiler replacement work to begin.
February 2020: Progress made in developing temporary office location
The city has provided initial permit and site work comments to DLR. The design teams are working on addressing those comments now.
100% CD plans were just completed January 30.
Fortis is working with the early procured scopes to coordinate phase planning and constructability. Coordination meetings are occurring for abatement, concrete, rough carpentry, roofing, mechanical, plumbing, electrical, and site work. The final remaining scopes of work will be bid in late February.
Move coordination meeting #1 occurred January 29 with the front office team.
Progress has been made in developing the new temporary front office location and layout for the 2020-21 school year.
Fortis' modular company is working on engineering documents for their modular classroom permit.
Obtaining clearance from the State Historic Preservation Office (SHPO) has proven challenging. Our consultant, Archaeological Investigations Northwest, Inc. (AINW), is now working on enhancing the information for resubmittal.
January 2020: Land Use Application Submitted to City
The Land Use application was submitted and approved at the last Planning Commission hearing on December 18, 2019.
Fortis is working with the early procured scopes to coordinate schedules, phasing and review constructability. The work scopes currently active in planning include hazardous material abatement, concrete, rough carpentry, roofing, mechanical, plumbing, electrical, and site work.
The District has contracted with Lancaster Logistics to provide move-in and move-out and storage coordination services. This is intended to help relieve staff concerns about packing up and moving classrooms. CSD will have multiple projects moving in and moving out at the same time this next year. Lancaster's services will help ensure smooth transitions and prevent CSD team overload.
December 2019: Design Process on Track
The City of Corvallis Planning Commission hearing was rescheduled for December 18, 2019. The design team is on track to submit the plans to the City for a building permit by the end of December.
The phasing on the project has firmed up and efforts to schedule are underway. Fortis has requested approval to secure the additional modular classrooms that will temporarily house several classes during construction.
Fortis has bid several scopes and is seeking approval for some of the major subcontractors to lock in participation and to get a jump-start on coordination and early materials ordering. These early scopes will help assist with design and phasing planning and confirm availability beginning the summer of 2020. The remaining scopes of work will be bid in early 2020.
The team continues to develop phasing and logistics plans that consider the occupied school during construction.
The team is working on scope and pricing for the underground storage tank removal at the front entry prior to the new entry addition construction.
November 2019: Construction Phasing Planning Begins
The City of Corvallis Planning Commission hearing is scheduled for December 4, 2019.
The project team is working hard on the details of the construction phasing and a logistics plan. Wenaha Group is engaging a Move Consultant to coordinate move logistics.  This is intended to help relieve staff concerns about moving classrooms and to ensure smooth transitions.
Early procurement for critical subcontracting trades is underway. Fortis held a contractor open house on November 1 at Garfield Elementary.  Approximately 40 different specialty contractors attended the presentation and site tours.
October 2019: Land Use Application Submitted to City
The Land Use application has been submitted and is working its way through the City of Corvallis process. The date for the Planning Commission hearing has not yet been established.
The project team is working on the details of the construction phasing and a logistic plan. An updated project estimate was provided by Fortis Construction and did not change significantly from the previous estimate.
August 2019: Design Development Completed
The design team completed the Design Development and has met with staff to continue to work on the detailed aspects of the design. A neighborhood meeting was held on August 6 as part of the City of Corvallis Land Use approval process. The meeting was well attended with strong support for the project and the improvements to traffic flow, safety, and circulation.
A fourth Design Advisory Committee meeting was held on August 22 for committee members to review and provide feedback on the evolving design.
July 2019: Summer Design Work
The design team is working on design development over the summer so they will be ready to re-engage with staff this fall to continue to work on the more detailed aspects of the design. A very productive all day design review session was held the week before the summer break. The design team reviewed all aspects of the current design with school and facilities staff to receive input and answer questions so the design work could continue during July and August and proceed on schedule. The schematic design estimate for the bond promise scope exceeded the original Garfield budget. The Bond Leadership Team has authorized the use of bond reserve funds if needed, to complete the planned projects.
The Garfield Design Advisory Committee will meet on August 22 for meeting #4.
April, 2019: Design Advisory Committee Update
This project will expand Garfield from 46,000 square feet to 62,000 square feet including four additional classrooms, student support spaces, and an art and science classroom. In March, a preliminary site diagram concept was presented for feedback. The concept featured a number of site improvements:
Additional classroom wing added on the north side of the school, adjacent to the current gymnasium
Reconfigured and expanded front entrance and office area
Reconfigured site circulation and an increase of parking spaces
The proposed siting of the new classroom wing is based on the design guidance principles that will be used throughout the bond program; specific to the Garfield site:
a north facing classroom orientation provides better daylighting and efficiencies in heating/cooling
efficient internal circulation and room adjacencies
consolidation of outdoor learning and play areas and safety site lines
February, 2019: Design and communication
Communication protocol has been established between Wenaha and main office staff at Garfield. Additionally, design is underway.
Activities scheduled for next quarter involve two Design Advisory Committee meetings and a proposal from the geotechnical team.
January, 2019: Design Work Begins
The design phase for our school will begin in January 2019. Construction is scheduled to begin in September 2019. We will share regular updates and opportunities for input.
November 18, 2018: Garfield Design Advisory Committee
The Design Advisory Committee has been selected. Members include Justin Azhocar, Claudia Bouvier, Yazmin Brambila, Lupita Cobian, Nancy Davila-Williams, David Harner, Maria Hernandez, Elvira Huidor-Dever, Savannah Laney de Battro, Cathy Law, Perla Martinez, Daniel Olvera, Mara Silvera, Tammy Woodman, Maria Wright, Leigh Santy, and a representative from district.
This committee will ensure that the values of the school community are represented in the design and that the school community will be kept informed throughout the design and construction process.
November - December, 2018: Architect Review and Site Surveying
Pre-design work at Garfield is taking place including a site walk-through by the architect team. The site is also being surveyed as part of the pre-design process.
November 5, 2018: Design Advisory Committee
The Garfield Design Advisory Committee will be announced and meetings will get started in January 2019.
Project Timeline
Bond Projects at Garfield
Garfield Elementary was built in 1955. Garfield's current enrollment is 444, with a current capacity of 468.
 Safety & Security Improvements
Enhance emergency communication systems
Improve playground lighting
Improve seismic safety
Improve site circulation and parking
Replace sidewalks
Secure front entry and office modifications
 Capacity Improvements
Garfield's current capacity is 468. The projected new capacity is 531.
Add six permanent classrooms
Renovate four existing classrooms for student support services
Remove three portable classrooms
 Renovations & Repairs
Add a covered play shelter
Improve ADA accessibility
Install energy efficient lighting
Renovate restrooms
Repair concrete floor foundation
Upgrade finishes in hallways and shared spaces, including floors, paint, and ceilings
Upgrade mechanical infrastructure, including electrical, heating, and plumbing systems
Replace kitchen flooring
 Hands-On Learning Modernization
Create collaborative/small group learning areas
Expand library/media center
Relocate school garden for construction, if necessary
Photos
March 2020
Temporary modular installation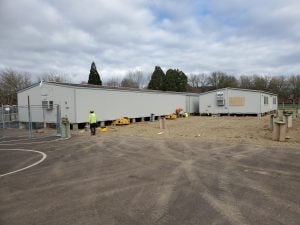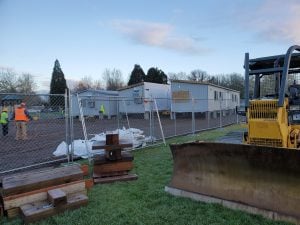 January 2020