What's Happening Now
March 2020
The Bid Set documents were issued February 3, 2020. Fortis received proposals for the remaining scopes on February 18 and presented a preliminary GMP and accompanying Value Engineering (VE) log on February 24th. They will continue to work with the team to fine-tune both the VE Log and the GMP to meet the District's parameters.
Planning Commission approval was received at the last Commission Meeting.
Corvallis Building Department review comments were received February 27. The team is reviewing and preparing a response to be provided by March 12.
February 2020: 100% bid set is scheduled for February 3 issue date
On January 16, Fortis held a very well-attended subcontractor open house at Lincoln Elementary School. Fortis is receiving and reviewing bids for site, structure, exterior skin, mechanical, plumbing, and electrical scopes of work. This early procurement is an important step in the process to ensure cost certainty and budget control. The team will procure the scopes at the Health Center concurrently with Lincoln. The remaining scopes of work (interior finishes, etc.) will bid in mid-February.
A Planning Commission hearing was held on January 22. Based on community testimony, the Commission held the record open an additional 7 days to allow for additional written comments. The design team will provide a formal response, and the Commission will deliberate on February 5.
A 100% Bid Set is scheduled for a February 3 issue date.
January 2020
Fortis is spending January refining estimates, soliciting proposals for the major scopes of work, conducting constructability reviews, and continuing to develop the schedule and phasing plans.  Some scopes of work that may be bidding by early February include sitework, structure, exterior skin, mechanical, plumbing, and electrical.  This will help ensure cost certainty and budget control.  The remaining scopes of work will bid in February or March.
The project has been submitted for permit and formally accepted by the City of Corvallis December 31, 2019.  Corvallis Building Department review is ongoing, with first round of comments pending Land Use Approval. Planning Commission Hearing date is scheduled for Wednesday, January 22. The design team is busy collaborating with the contractor and adding bidding specific content in preparation for the Bid Set, to be issued February 3, 2020.
December 2019: Permits to be Submitted to City by December 31
Fortis Construction is developing the 100% Design Development estimate and is continuing to generate interest in the subcontractor community. This project will bid in the first quarter of 2020. Preliminary phasing plans have been developed and are being reviewed and modified to account for logistics, sequencing, and minimizing impact to ongoing operations at the existing elementary school.
There have been multiple meetings with City of Corvallis Planning and Development departments to facilitate a smooth permit submission process and mitigate significant changes or unforeseen complications. DLR is on track to have a Permit Set completed before the end of the year.
The District is working with the City of Corvallis Parks & Recreation Department to establish a plan for relocating the tennis courts to a new location in South Corvallis.
District staff has been tasked to identify items that need to be salvaged prior to demolition.
Phasing and logistics plans are being developed to ensure a safe project with minimal disruptions. Considerations will include:
Moving existing clinic modular building on-site for use during construction.
Parking and student drop-off circulation.
Fencing to separate construction work from school operations and outside activities.
Minimizing disruptions to the educational experience.
Developing temporary playground enhancements.
November 2019: Fortis Construction Selected
Fortis Construction was selected as the CM/GC contractor for Lincoln Elementary. They will be reviewing the design documents and putting together an estimate to reconcile with the budget. The Construction Documents (CD) phase is underway.
Initial land use submission has been made and we are working on responses for the Planning staff.  The City of Corvallis Planning Commission meeting is expected to take place in mid-December.
The Benton County Health Clinic project continues in the design process with estimating underway.
October 2019: CM/GC Contractor procurement process is underway
Design Development is approaching 100%.  The District, Wenaha, JLD Estimating and DLR are reviewing estimates and designs to reconcile with the budget. 
Initial land use submission has been made and we are waiting for Planning Department feedback prior to final submission.
The CM/GC contractor procurement process is underway with award targeted for mid-November.
The Benton County Health Clinic project continues in the design process with estimating about to start.
August 2019: Design Development Near Completion
Two neighborhood meetings were held including a meeting on August 29 as part of the City of Corvallis Land Use approval process. Both meetings were well attended with positive comments and input provided.
Design Development is at 90%.  The bond team is reviewing these documents and JLD Estimating is preparing cost estimates. 
The Benton County Health Clinic project, which is being developed through an Intergovernmental Agreement, is in design and will be submitted to the Planning Department with the school project.  At present, the County has committed funding through the design process.  By the end of the calendar year, they are to notify the District if they are committed to building the facility.
A package is being prepared by Willamette Valley Planning and will be submitted to the City of Corvallis Planning Department for consideration.
July 2019: Summer Design Work
Design Development is in process. Focus groups with teachers, administrators and specialists took place in June to inform the design team's summer work. This input was used as designs were developed and will be reported back to the Focus Groups after the summer break. The Lincoln site plan is fairly solid, with design work starting on the County Health Clinic, in coordination with Benton County. This design work is being done utilizing the district's design team, with reimbursement from the county. Approval of final design is expected this fall, with construction cost approval pending bid in early 2020.
May 2019: Design Advisory Committee meeting #3
The core team meets regularly and includes the architects, Principal Hale, Kim Patten, and Amy Lesan. The core team develops the designs that are brought to the DAC meetings for feedback.
The current site concept includes a parking and parent drop-off area adjacent to 99W and a private drive on the east side of the site for bus drop-off (only). This would require the relocation of the tennis courts.
The new building includes collaboration spaces adjacent to classrooms. There are a variety of collaboration space designs.
Primary grades will be located on the first floor, the library, learning resource center and grade 2-5 classrooms will be upstairs.
View the site concept HERE.
February, 2019: Design Advisory Committee meeting and design process
The first Design Advisory Committee meeting is February 20 at 6 pm at Lincoln Elementary. Additionally, a civil engineer has toured the site. Design is in progress and first Core Team meetings are underway.
Activities scheduled for next quarter include City of Corvallis land use and permitting meetings, as well as site observation for wetlands on the site.
January, 2019: Lincoln Design Advisory Committee
The Design Advisory Committee will begin meeting in January and will be facilitated by project architects.
November - December 2018: Architect Review and Site Surveying
Pre-design work at Lincoln is taking place including a site walk-through by the architect team. The site is also being surveyed as part of the pre-design process.
November, 2018: Design Advisory Committee
The Design Advisory Committee has been selected. Members include Sonya Bacheller, Patricia Cabeza, Aliesje King, Thom King, Aaron Lesan, Denna Melton, Araceli Mendez, Dana Monroe, Alison Ocampo Maria Rosas, Shahnaz Sahnow, De Nyago Tafen, Cecelia Tellez, Rebecka Weinsteiger, Julie Wilborn, Principal Hale, and a representative from district staff.
This committee will ensure that the values of the school community are represented in the design and that the school community will be kept informed throughout the design and construction process.
Project Timeline
Bond Projects at Lincoln
Lincoln Elementary was built in 1949. Lincoln's current enrollment is 387, with its capacity at 489.
 Replace School on Current Property
Construct on the southeast corner of the current property
Students would continue to attend Lincoln Elementary during construction
Public tennis courts would remain at the current location UPDATED spring 2019: courts will need to be relocated to a new site
Lincoln Health Clinic will continue to be located on the school campus
Design process would begin immediately and include collaboration with community and staff
 Safety & Security Improvements
New emergency communications system
Built to current seismic safety codes
Well-designed parking and site circulation
 Sustainability
Sustainable design
Maximize daylighting
Install energy efficient building systems
 Modern Educational Spaces
Learning spaces for small group, collaboration, and project based learning
Outdoor learning including school garden and outdoor play areas
Separate multi-purpose dining commons and gymnasium
Planned spaces for student support services
Photos
March 2020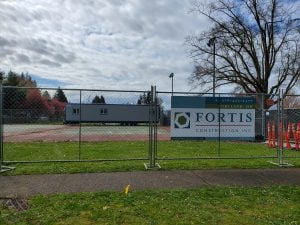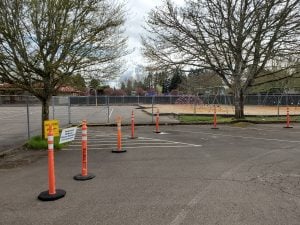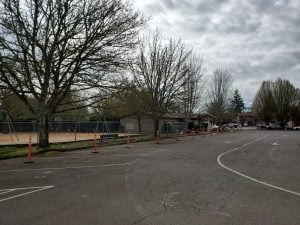 January 2020
Live Camera
Coming in Spring 2020!