The Oregon Department of Education released graduation data for the 2017-18 school year and once again, the Corvallis School District continues to outpace the state in on time graduation rates.  The district's overall graduation rate for 2018 was 87%, an increase from last year's rate of 85% and the highest rate ever in the Corvallis School District. In terms of the number of students, 515 out of 592 graduated with their 4-year cohort in 2018 compared to 489 out of 575 in 2017.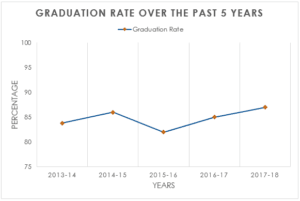 Each high school experienced improvements in their overall graduation rate with both Corvallis High (291 of 327 students) and Crescent Valley High (224 of 252 students) at 89%.
Career & Technical Education (CTE) concentrators are students who earned one or more credits in technical skill-based courses as part of a state-approved CTE program. Across the district, the graduation rate for CTE concentrators (162 students) continued to grow from 93% in 2016-17 to 94% in 2017-18.  "We recognize that when our students have access to real world learning, they find greater engagement in school and have improved outcomes," said Superintendent Ryan Noss.
One area of focus for improvement includes students experiencing homelessness, with 51% (19 of 37) graduating in 2017-18.  "We will continue to expand opportunities we provide our homeless students," said Noss. "Providing a consistent learning environment is critical for students to earn the credits they need to graduate and build skills for future success."
Hispanic/Latinx students (74 of 88) graduated at a rate of 84% in 2017-18, up more than 7 percentage points from the previous year. An additional highlight is the success of English Learner (EL) students who achieved English proficiency prior to entering high school. These former EL students graduated at a rate of 92%. "Our English Learners are showing the world that speaking a language other than English is truly an asset," said Noss.
Students navigating poverty and students with disabilities achieved their highest rate of graduation at 76% (of 207 students) and 68% (of 81), respectively. Noss pointed out that, "while the number of students with disabilities represented in the 4-year cohort has steadily increased over the past five years, our modified diploma counts have remained steady. This means more students with disabilities are earning a standard diploma within 4 years."
Superintendent Noss added, "I want to recognize the staff of the Corvallis School District for their commitment to each and every student.  Graduation rates continue to rise in Corvallis because of the hard work of our students and staff.  These graduation rates are a testament to the relationships we build with our students and the support provided to ensure they graduate with future opportunities."